h o r s   d'  o e u v r e s  &  d e s s e r t s

h o r s   d'  o e u v r e s

C  o  l  d

Mozzarella, Basil and Roma Tomato Bruschetta* 

Assorted Vegetables stuffed with Herbed Cheese* 

South of the Border Pinwheels*

Flour tortilla with cream cheese, chopped mild peppers, black olives, chopped tomatoes, green onions and sliced in bite size pin wheels

Crimson Poached Pears with Oregon Bleu Cheese

 on Rye Crostini 

Caramelized Onion and Goat Cheese Tartlets 

Pear and Brie in Phyllo 

Stuffed Roma Tomato Margherite with Fresh Mozzarella, Aged Balsamic Vinaigrette and Fresh Basil 

Cold-Smoked Salmon with Herbed Cheese on Cucumber Rounds* 

Prosciutto wrapped Asparagus Spears with Garlic Balsamic Oil* 

Smoked Duck Breast with Huckleberry Compote

 on Toast Rounds* 

Smoked Scallops in Phyllo Cups with Boursin Cheese 

Assorted Sushi and Sashimi

Shrimp Ceviche 

Mini shrimp marinated in lime juice, tossed with diced seedless cucumbers, sweet onions, fresh avocado, fresh cilantro and salsa. Served with tortilla chips for dipping.

 Domestic and Imported Cheese display

A variety of classic cheeses such as Brie, Bleu cheese, Swiss, Miniature cheese balls, Cheddar and Gouda presented on a slab of Marble, along with assorted water crackers and berries

Shrimp cocktail

Jumbo shrimp, served with cocktail sauce and lemon wedges

Cilantro-lime shrimp cocktail

jumbo shrimp marinated with fresh cilantro and lime juice

served with spicy cocktail sauce

Crudites 

an assortment of fresh garden grown vegetables, served with herb dip

Gourmet Hummus Bar

Sun-dried Tomato, Roasted Red Pepper and Macadamia Nut Hummus, served with Gourmet Vegetable Crudités and Toasted Pita Chips

 h o r s   d'  o e u v r e s

H o t

Jerk Chicken Skewers

Coconut Shrimp

with lime cilantro or blackberry dipping sauce 

Spring Rolls

with spicy mustard and duck sauce

Scallops Wrapped in Bacon

Chicken Teriyaki

with scallion ginger dipping sauce

Stuffed Mushroom Caps

stuffed with spinach/basil  or crab

Maytag Bleu Cheese Mini Burgers

Chicken Quesadillas 

with jalapeno, caramelized onion and jack cheese

Beef or Chicken Satay

with peanut sauce

Maryland Crab Cakes 

Fresh Maryland blue crabmeat with roasted red pepper aioli.

Creole Chicken Skewers

with garlic aioli 

Mini New Zealand Lamb Chops

Grilled and Served with a Homemade Avocado Mint Relish

Brown Sugar Glazed Bacon Wrapped Water Chestnuts

Whole water chestnuts wrapped in bacon and baked in a brown sugar glaze.

Lemon Chicken and Fontini Sausage Skewer

Skewer of lemon chicken, grilled fontini Italian sausage and roasted red peppers, drizzled with a lemon buerre blanc sauce.

Alaskan Salmon glazed with teriyaki sauce and served on a cedar plank garnished with scallions.

Miniature Chicken Cordon  Bleu

served with Honey dijon mustard

Szechwan Beef Satay

A Skewered Strip of Tender Beef in a Ginger Garlic Glaze

Chicken Taquitos

Shredded Chicken rolled in a crisp Corn Tortilla, served with Tomatillo sauce

Miniature Beef Wellington

Bite size pieces of beef tenderloin, wrapped in flaky pastry

Spicy Corn Fritters

Served with Pesto Aioli

The following menu samples will give you an idea of what Bleu Sage Fine Catering can offer for your special event. Please call 303.299.9100  for most current menus and pricing. 

We offer a wide variety of additional items and will be happy to customize your menu.

50 Guest Minimum

*These selections are appropriate for passing. Sauce is not served with passed items.

 d e s s e r t s

All desserts are sold by the dozen, one dozen minimum

White and Dark Chocolate Dipped Strawberries 

Long Stem Chocolate Tuxedo Strawberries 

Individual Fruit Tarts 

Miniature Fruit Tarts

Miniature Chocolate Mousse Tarts 

Fudge Brownies

White Chocolate Blondie's 

Lemon Bars 

Raspberry Bars 

German Chocolate Brownies 

Chocolate dipped Macaroons 

 Chocolate Pecan  Cookies 

 Peanut Butter Cookies 

Old Fashion Oatmeal Cookies 

White Chocolate Macadamia Cookies 

M&M Cookies 

Assorted Cheesecakes 

Chocolate Raspberry Torte 

Carrot Cake

Tiramisu

Call 303.299.9100 for full cake, cheesecake, & torte prices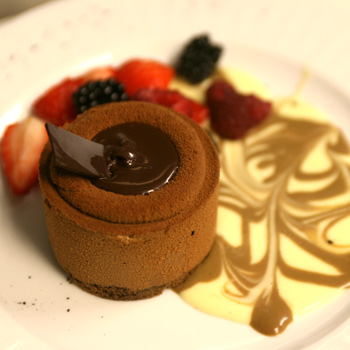 I f   y o u   c a n   t h i n k   i t ,  W e   c a n   d o   i t !